Is it Time for a New Car?
Financial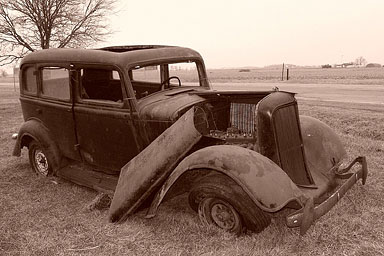 A friend needed extensive engine work done on his car and called to ask, "When is it better to buy a new car verses paying for repairs?"
If he indeed needed a new car, he also wanted to know if I had any tips for how to begin the car buying process. Specifically, he wanted to know how much should he spend on the new car.
Here are the 7 steps I provided & I think they will assist you as well if you are thinking about your next car purchase!
1. A rule of thumb to decide whether it's time to buy a new car.....

If annual repairs cost more than the value of the car then it's probably time to replace your vehicle.
For example, if your car is worth $2500 and cost $3000 to repair then it may make more sense to replace your car.
2. It's ALWAYS best to pay cash for a vehicle.
My friend Danny likes to say, "Pay cash for what you want, but finance only what you need." I agree with him. If you have the cash then no car is too expensive, but it you don't have the cash then your focus should be on the option that best fits your budget/financing and meets your transportation needs.
3. Financing?
Shop for the lowest interest rates at your local bank of credit union prior to beginning your car search.
You can use this information as leverage in negotiating the best rate.

4. Set a budget
Determine the maximum amount that would fit into your monthly budget. I suggest you limit total monthly car payments to no more than 7% of your gross monthly income.
That means, if your gross income is $5000 then $350 monthly car payment is reasonable. Multiply your gross monthly income times .07 to get this number.
5. Determine length for financing.
Even at a lower interest rate, I still suggest financing for no more than 60 months. Financing for 36 to 48 months is even better. Avoid telling a dealer that you want a certain monthly payment. The dealer might stretch your payments out over 72 months which in the long run will cost you a lot more in interest payments.
6. Use a Car Affordability Calculator.
You can find a tool on several sites. I recommend Crown Financial Ministries to determine the amount you can afford to pay for a car.
For example, if you determine that $350 monthly fits into my budget and you are financing over 5 years at 3% interest rate with no down payment, then you can calculate the amount of car that is affordable would be less than $19,500.
7. The Last Step: More Research
Go online to a website such as Kelley Blue Book or ebay to get an idea of which type of cars fit into your budget and meet your needs. There is no reason to even look at cars that cost more than you can afford.
Now that you have completed these 7 steps, you are armed and ready to visit the dealership or search for cars in any way you see fit.
Following these steps will give you the confidence to find and make a smart car buying decision when the time comes to replace your vehicle.